For those who are mega fans of Lush Cosmetics, you will be delighted to hear that they have announced that there are two Lush Advent Calendars for 2023.
Not the first brand to announce that they have an Advent Calendar for 2023, but likely to be one of the first to launch because you can get your hands on them from 23rd August via the app or on launch day which is a day later on 24th August.
The first offering from Lush by way of an Advent Calendar is the
Lush Christmas Buds Advent Calendar 2023 and it is to be priced at £125.
Featuring a mixture of old products and new products, this is a 25 day Advent Calendar and a full list of spoilers is shown below as to what it is you can find inside this Advent Calendar.
What's inside:
Lump of Coal bath bomb
Groovy Fairy bath bomb
Candy Cane Reusable bubble bar
Penguin Bath bomb
Gold Fun
The Comforter mini bubble bar
Toby's Magic Cow bath bomb
Snowman Bubbleroon (Retro)
Snow Fairy Roll mini bubble bar
Catch me if you can bath bomb
Blue Fun
Rainbow bubble bar
Snowy bath bomb
Neon Sunset fun
Chocolate Santa bath bomb (Retro)
Sleepy mini bubble bar
Bronze Fun
Butterbear bath bomb
Snow Dragon bath bomb
Glow Worm Fun
Snow Angel bath melt (Retro)
Unicorn Horn bubble bar
Sleepy Bear bath bomb
Reindeer bubble bar
Magical Santa bath bomb
The second Advent Calendar from Lush is the Lush Advent Calendar and it comes packaged in a beauty chest with locks,
similar to the 2022 offering
.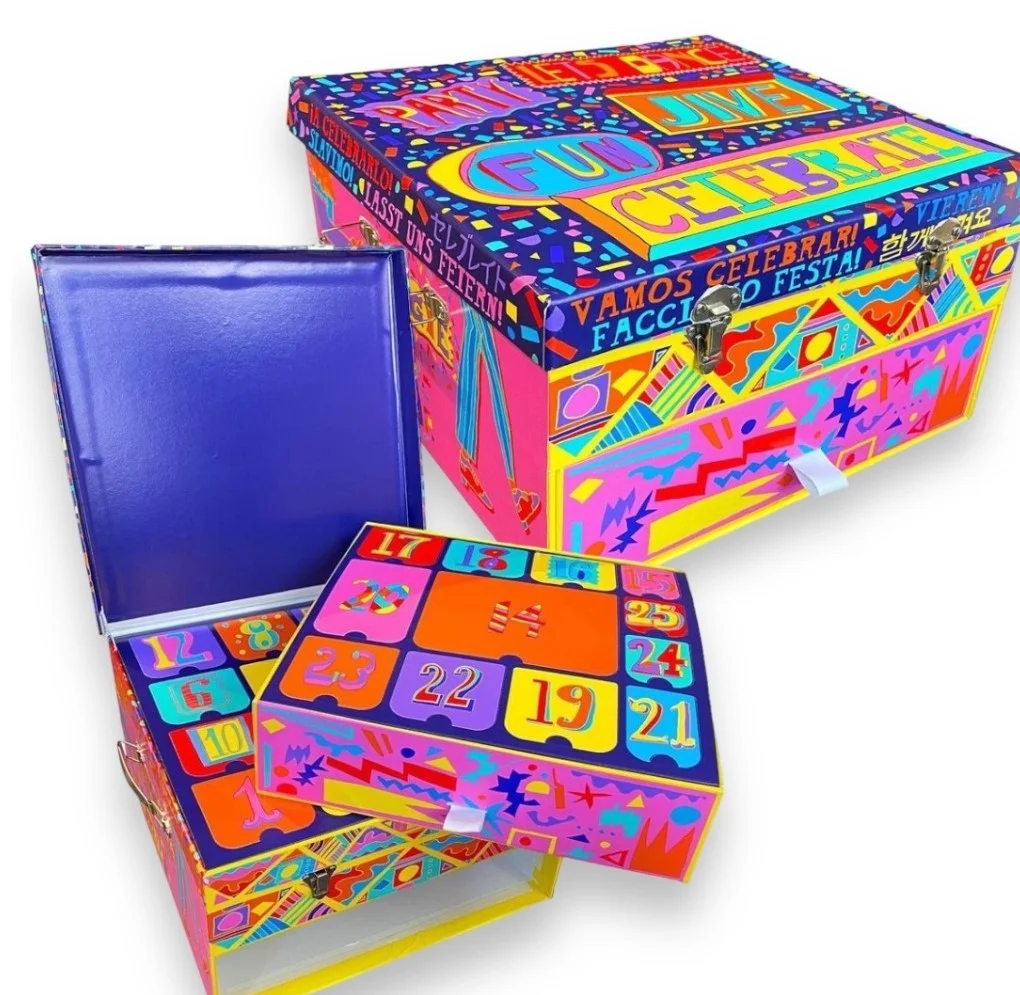 Inside the box, you will find
a twenty-five day offering which is packaged inside a reusable chest design. Inside, you will find a real mixture of popular, loved and new products from Lush running across their bath, body, hair and also perfumes it will be priced at £195.
What's inside:
All Is Full Of Love fragrance (Advent Calendar Exclusive)

Penguin Bath bomb

Cinders Shower gel (Retro)

Boogie Woogie soap (Advent Calendar Exclusive)

Groovy Fairy bath bomb

Snowman Bubbleroon (Retro)

Dream Cream (SP)

Magical Santa bath bomb

Gingerbread Lip Scrub

Marzibain bubble bar (Retro)

Snow Fairy Shower Gel

Candy Cane Lip Butter

Strawberry Santa Shower Foam

Jingle Shower Jelly (Retro)

Once Upon A Time Body lotion

Twinkle Bath bomb (Retro)

Bob Soap (Retro)

Sleepy Bubble bar

Snow Drift Bath bomb

Fairy Tail Sugar Scrub (Retro)

Berry Berry Christmas Shower gel

Reindeer Bubble Bar

Snow Angel Bath Melt (Retro)

Christmas Eve Candle (Advent Calendar Exclusive)

Christmas Morning bubble bar (Retro)
If you are a fan of Lush Cosmetics and if either of these have got your attention, then keep your eyes open for the launch
over at Lush
.
*this post contains PR samples and/or Affiliate Links unless indicated otherwise - you can learn more on my Disclaimer page.